| | | |
| --- | --- | --- |
| Welcome | | You are not currently logged in. |
Organize Today!

Looking for more information on Organizing your workplace?
Click Here
| | | |
| --- | --- | --- |
| | | |
| | | |
| | | |
Regional Bargaining Report # 7
July 1, 2015
CWA DISTRICT 1 NY/NE
CWA District 1 and IBEW Regional Bargaining Committees met with the Company today at the Rye Town Hilton in Rye, NY.
In the morning and afternoon we were given a presentation on the utilization of the Medical and Prescription plans.
This evening we exchanged additional proposals with the Company.
Regional Bargaining will resume tomorrow morning.
We need every member to make plans to attend the July 25th, 2015 rally at Verizon Headquarters at 140 West Street in NY City. The Rally will begin at 11 AM.
Regional Bargaining Report # 6
June 30, 2015
CWA DISTRICT 1 NY/NE
CWA District 1 NY/NE and IBEW NY/NE Regional and Local Bargaining Teams met with the Company today at the Rye Town Hilton in Rye, NY. The Regional Committee presented proposals to the Company including a proposal to eliminate all Contracting and to stop plans for future contracting.
The Company responded to some of the Unions request for information and the Committee spent the rest of the day reviewing the information that was provided.
The Regional Committee is scheduled to meet with the Company tomorrow morning to receive information on the utilization on the medical plans.
We need to continue to stand strong and get our message out that we are more committed than we've ever been to fight to protect our wages, benefits and working conditions.
Mobilize! Mobilize! Mobilize!
Regional Bargaining Report # 5
June 29, 2015
CWA DISTRICT 1 NY/NE
CWA District 1 and IBEW met with the Company today in Rye New York where the Company made a presentation on Excise tax, which is a potential tax on health care plans related to the Affordable Care Act.
Last week, in the Company's propaganda they boasted about offering a wage increase to 38,000 workers. As usual, when dealing with this greedy corporation the devil is in the details.
Here are some of the other things that Verizon has proposed:
JOB SECURITY- Remove the protections against layoffs and forced transfer.
NO COLA
CORPORATE PROFIT SHARING at risk if not settled by certain date. Eliminate the minimum payout.
DIFFERENTIALS AND PREMIUM PAY -Eliminate Saturday and Sunday Differentials and premium pay. Tour differentials only paid for time worked between 9pm and 6 am. Eliminate all but 10% differential.
SUNDAY TOURS- Include Sunday as part of basic work week.
OVERTIME – only paid after 40 hours worked. No payment of more than one and half time
(1 ½ X). Eliminate caps on Overtime.
TECH CHANGE NOTICE- reduce notice given to the Union of any major technological change
BENEFITS- the Company proposes major reductions in medical benefits including higher deductibles, co-pays, premiums and co-insurance. The Company also proposed to remove the Unions ability to negotiate retiree health care benefits. Eliminate Class II/Sponsored Child coverage.
PENSIONS- Eliminate the lump sum pension. In addition, employees would have to choose between a pension which would be frozen and an enhanced 401K. If you choose Pension – No 401K match. If you choose 401K enhanced (100%)-Your Pension freezes.
401K Plan changes- begin charging a quarterly administration and a $50 fee for processing new loans.
DISABILITY BENEFITS- Eliminate Accident Disability Plan. Establish a rolling 5 years period for 100% payment on Sickness Disability. Once 100% is used – members are paid 50% (currently full pay benefits recycle after being back at work for 13 weeks)
CALL SHARING- give the Company additional leeway to route calls out of our bargaining units and to contractors while giving contractors the handling of all new products and services.
TEMPORARY ASSIGNMENTS– Ability to transfer employees to any state in Verizon footprint.
TUITION ASSISTANCE- Expanding the list of "Excluded" studies
FORCE ADJUSTMENT PLAN- changes to the FAP that would eliminate job security provisions.
WORK FAMILY- Reduce funding by $900,000. Added limitations if not agreed to by a certain date.
FAMILY CARE LEAVE- eliminate
EXCISE TAX- Company wants ability to change medical plans, health care spending account or premiums to avoid excise tax without negotiating with the Union.
PRE TEST TRAINING - Eliminate
INCOME PROTECTION PLAN - Would require employees to sign a Disclaimer to receive an IPP.
This is not a Company facing a financial crisis. They are extremely profitable. This is not a Company coming to its union employees seeking ways to work together to face the challenges of the future. Their proposals seek to destroy our future.
We need to send a very clear message that this is not acceptable, that we will not be passive as they seek to gut our contract.
MOBILIZE!!!
Regional Bargaining Report #4
Wednesday, June 25, 2015
CWA District 1 and IBEW Regional Bargaining Committees met with the Company today at the Rye Town Hilton in Rye, NY. The Regional Committee continued making proposals to the Company to improve the working conditions and quality of life for our members. We are waiting for information and data that we have requested from the Company.
Regional bargaining will resume and Local bargaining will start on Monday, June 29, 2015 in Rye, N.Y.
We need to continue to stand strong and get our message out that we are more committed than we've ever been to fight to protect our wages, benefits and working conditions.
Regional Bargaining Report # 3
June 24, 2015
The CWA District One and IBEW New York/New England Regional Bargaining Committee met with the company today in Westchester, NY. The first session of the day focused on the questions the committee had for the company on some of their proposals.
During the second session, the Union Committee made it very clear to the Company with a proposal on job security how important this issue is to the Union and the Members. We pointed out examples where the Company has declared surpluses as they continue with their plans to contract out work our Members perform.
We need to continue to be united and mobilize so the greedy executives at Verizon understand we will do whatever it takes to gain a fair and just contract.
In response to Verizon's opening day bargaining position, Vice President Dennis Trainor said claims about the pay increases they put on the bargaining table yesterday are simply a smokescreen designed to hide the harsh reality of their concessionary demands; deep cuts to pension benefits, skyrocketing increases in medical costs , and the complete elimination of job security. Despite $9.6 billion in profits in 2014 and $44 million in compensation to their top five executives, Verizon wants to eliminate middle-class jobs and let customer service deteriorate. Their proposals would slash thousands of jobs and leave our remaining members with a diminished standard of living at the end of any new contract."
There was no formal bargaining session today at the Regional table. The Union bargaining committee spent most of today reviewing the company's proposal from yesterday's session.
Bargaining is scheduled to resume tomorrow.
CWA Districts 1, 2-13 as well as IBEW New York (NY), New England (NE) and New Jersey (NJ) opened negotiations with Verizon today. CWA District 1 and IBEW NY and NE are negotiating for new contracts at the Rye Town Hilton in Westchester County. CWA Districts 2-13 as well as IBEW NJ are negotiating for new contracts in Philadelphia. Dennis Trainor, Vice President District 1 gave an opening statement to the Company at the Regional Bargaining table in NY. Dennis closed his statement by stating, "We are united in our commitment to grow with Verizon. The Company cannot keep claiming surplus after surplus while hiring more contractors or moving our work. It is not fair to our members and your employees to tell them there are too many of them but yet you need contractors to do their work.
We are united in our commitment to fight for fairness – we are the foundation upon which the success of Verizon rests. We have helped to boost the company's earnings and productivity even through a global recession. It is now our turn to share equitably in that growth.
When workers at Verizon improve their living standards through collective bargaining, all of our communities also benefit.
When CWA members succeed at the bargaining table, when we secure a better standard of living for our members, we help to boost the entire U.S. economy.
Verizon- it is time to stop the greed. Enough of the givebacks. It is time to negotiate a contract that is fair to your employees, one that protects good union jobs and that gives our membership the opportunity to grow with the company.
Verizon- it's time to set the right priorities in these negotiations. This means meeting its responsibilities to employees, as well as investors, executives and consumers."
After opening statements, Verizon gave the Unions an insulting and retrogressive comprehensive proposal. The Regional Bargaining Committee has adjourned for today and will resume tomorrow to review the Company's proposal.
The Regional Bargaining Committee attended a rally tonight at the Rye Town Hilton, which was hosted by Local 1103. The rally was a huge success and was attended by hundreds of CWA and IBEW members from New York State and New England.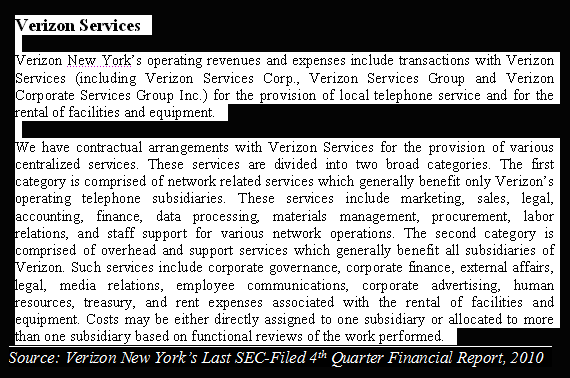 Click on the image to read the article.
Stand Up To Verizon Rally To Kickoff Bargaining
CWA local 1103 will be hosting a Stand Up to Verizon Rally to kickoff bargaining on Monday, June 22nd at the Rye Town Hilton @ 5:30 pm.
699 Westchester Ave, Rye Brook, NY 10573
BE THERE AND STAND UP TO VERIZON
Death Notice
Deceased: Robert Farrelly
Brother: James Farrelly field technician Pomona
Viewing Thursday & Friday May7 & 8 2015
2:00-4:00 p.m. 7:00-9:00 p.m.
Moritz Funeral Home
98 Route 303 South
Tappan, N.Y. 10983
Funeral
Saturday May 9, 2015 10:00 a.m.
Saint Catharine's Church
Blauvelt, N.Y. 10913